Microsoft 365 Lighthouse - What can it do for you
---

New announcements from Microsoft Inspire's session on Microsoft 365 Lighthouse
What is Microsoft 365 Lighthouse?
According to Microsoft's docs page on M365 Lighthouse:
Microsoft 365 Lighthouse is an admin portal that helps Managed Service Providers (MSPs) secure and manage devices, data, and users.
It would be a similar solution to Azure Lighthouse which provides multi-tenant management of the Azure platform, but this product leaves a huge gap for Azure AD and all other Microsoft 365 related services.
Some of the key points for Microsoft 365 Lighthouse as provided by Microsoft are:
Why do I need Microsoft 365 Lighthouse?
The reason why you might want to have Microsoft 365 Lighthouse is because currently it can be a pain to manage multiple customers through either the Cloud Solutions Provider (CSP) portal or opening all your customer tenants separately.
It's supposed to be a single pane of glass to manage all your customers from, giving you quick insight into all of your customers and their tenants, users and devices.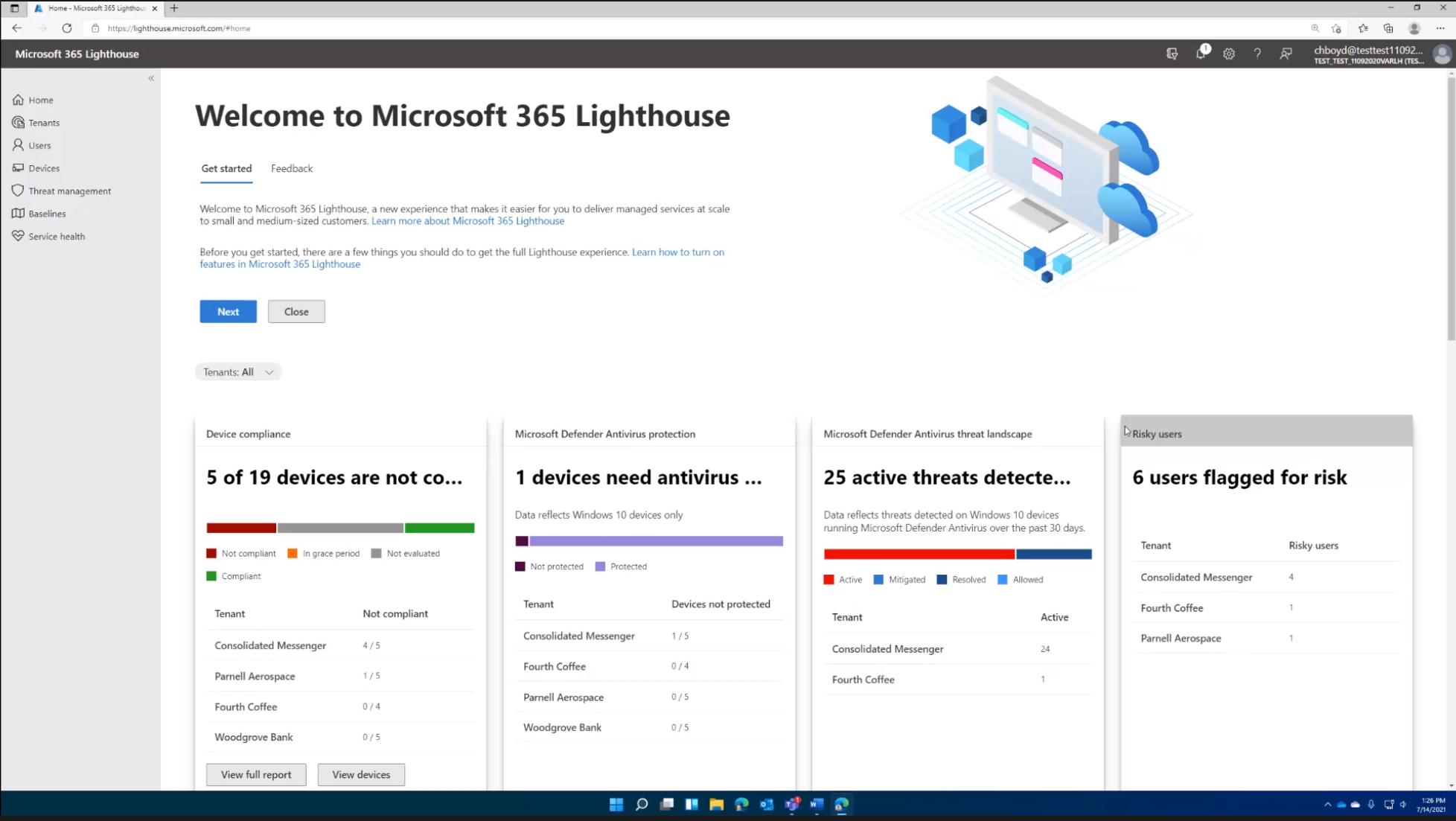 It allows you see your tenants and if you have correct access to them and tag them in case you want to highlight certain areas you want to address.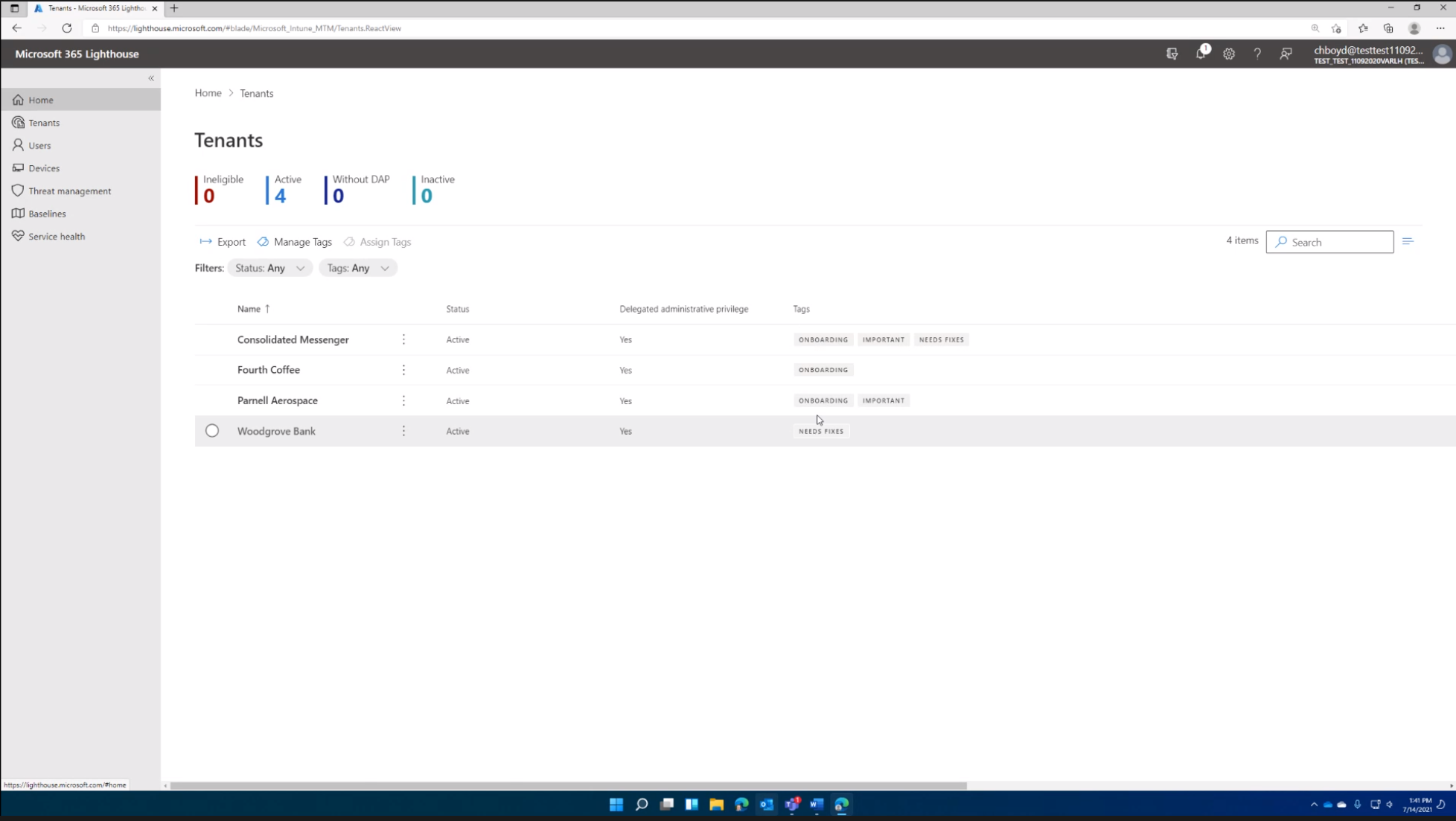 Once you've tagged your tenants, you can also filter on the created tags, giving you more flexibility on how to manage your customers.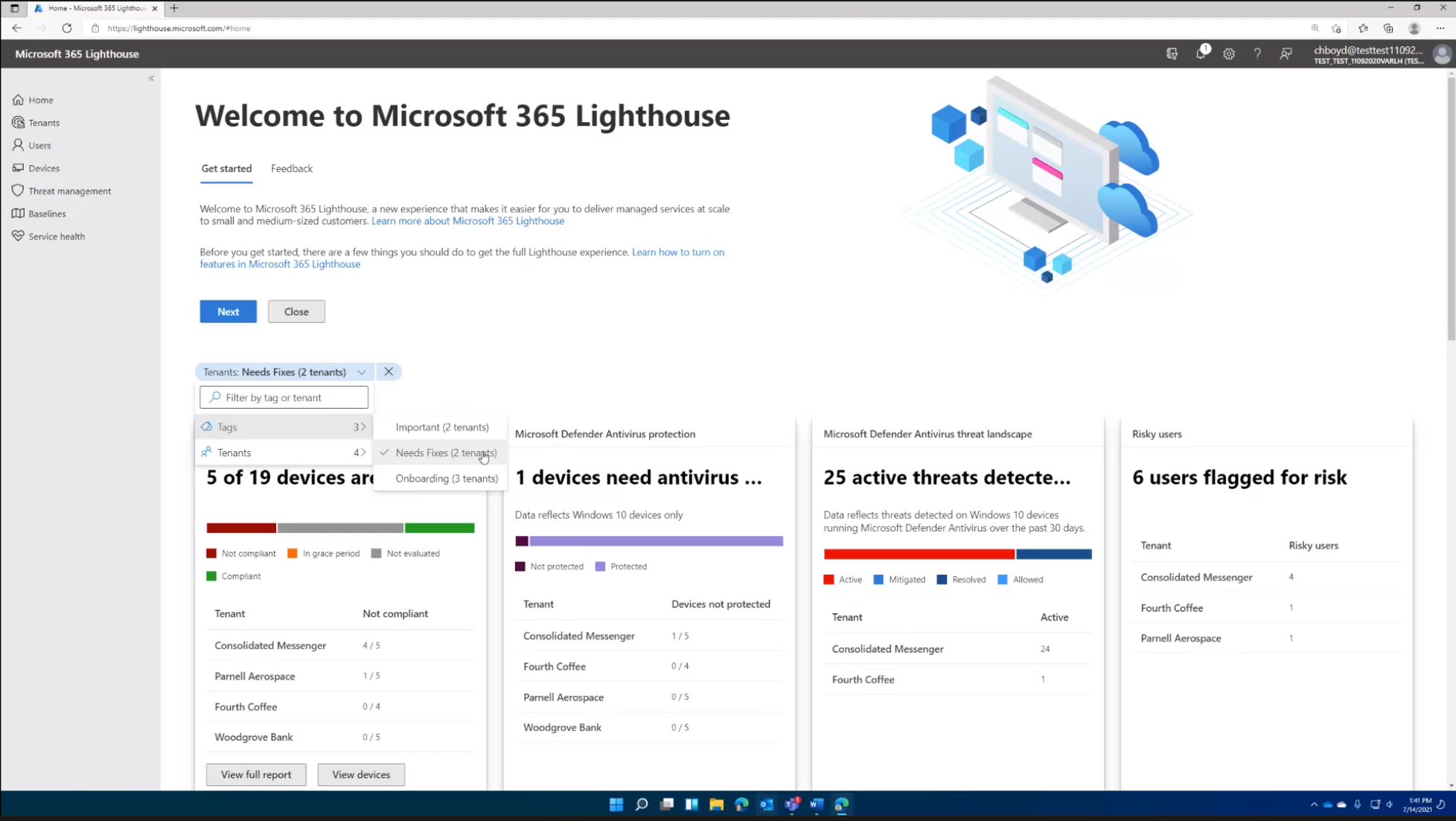 That's all great and dandy, but there's more!
They've created some Baselines for your tenant for you to quickly get your tenants to a 'bare minimum' set of standard policies.
To make it easier for you, they've also created some Deployment Plans which include these settings, for example Requiring MFA for Admins or Users

This can also include things as Microsoft Defender Antivirus baseline policies, all made simple for you to start with!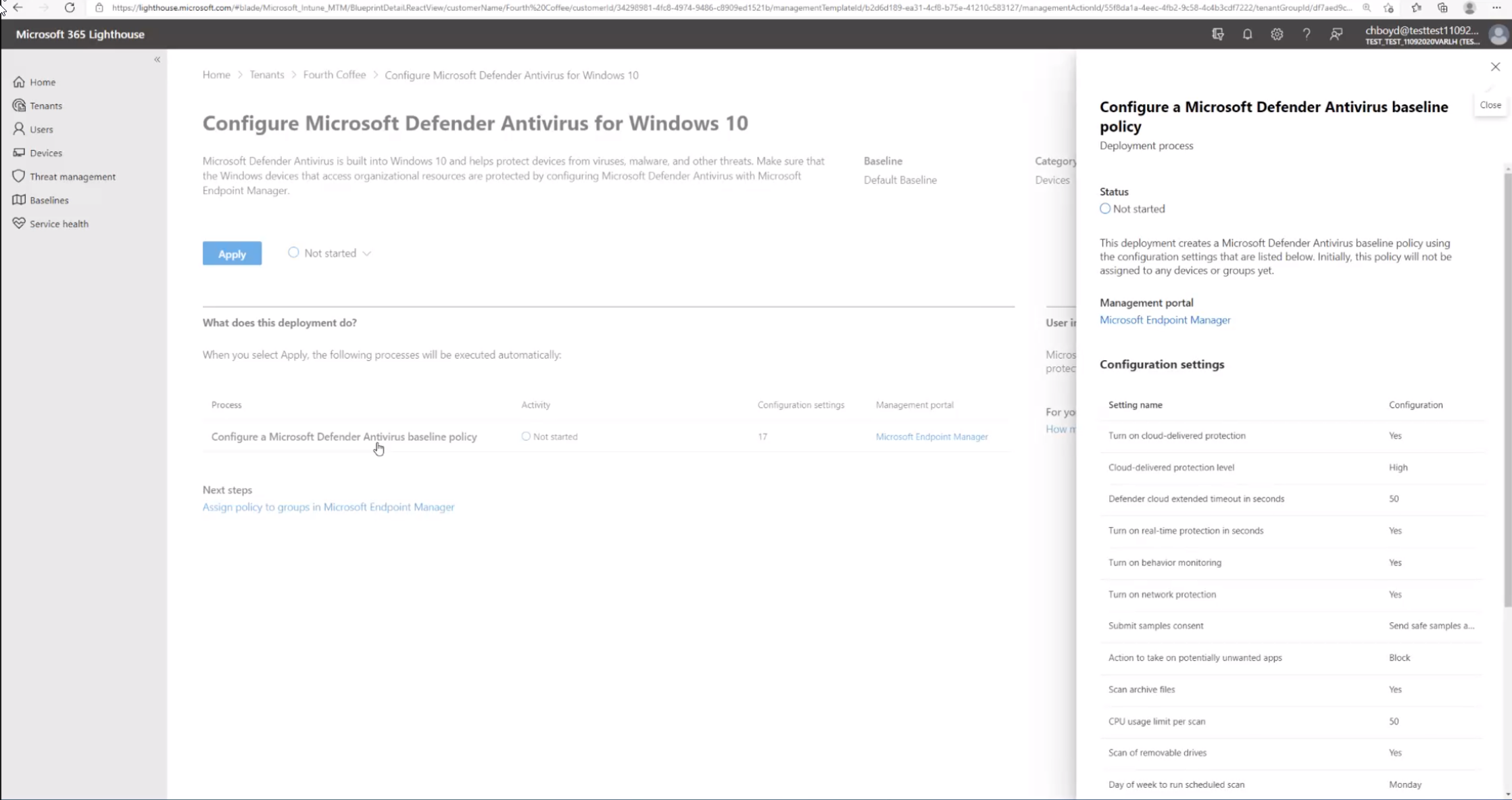 Isn't it still in preview?
Well, yes and no…
It was announced around September 2020 that Microsoft 365 would be entering public preview 'first part of next year'.
Unfortunately it turned out that around January 2021 it was a Private Preview, so we had enrolled for it, but unfortunately not been selected to join. When I heard this was coming up during this Inspire I was very excited, can we finally play with it?
During the Inspire session I had asked the team about how we could join the Private Preview and I was happy to hear that it is now in Public Preview, meaning that everyone that meets the pre-requisites can now enroll and join the preview!
Happy days! :thumbsup: :tada:
This sounds great, but what's the catch?
Well, it really depends on your current set of customers and your needs.
There is a list of pre-requisites that you need to meet in order to apply for the Public Preview, as described on their new landing page: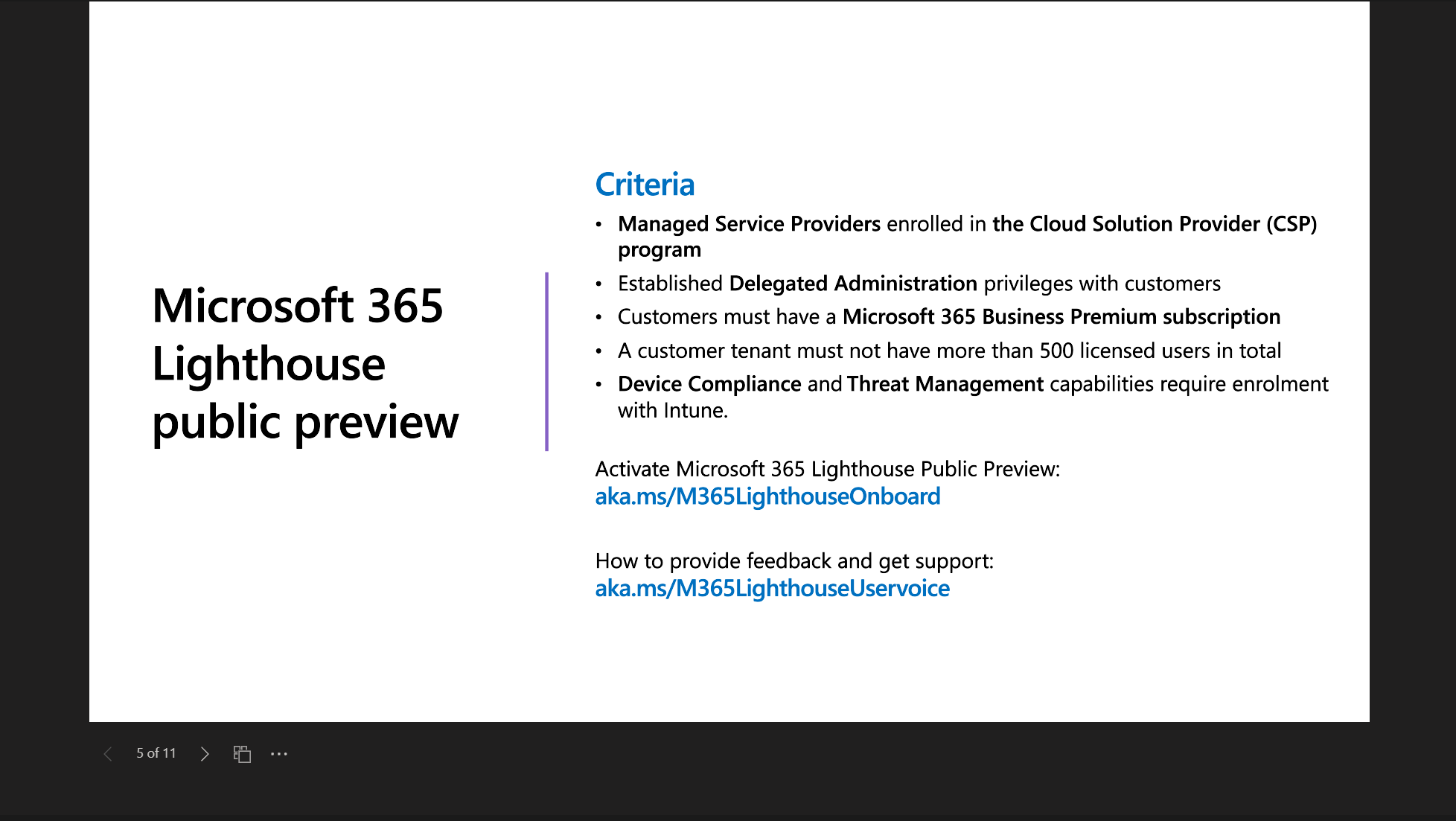 The one thing I had left our from the description of "what is Microsoft 365 Lighthouse" (because I secretly hope they will change it down the road) is this:
Customers must have a Microsoft 365 Business Premium subscription
I mean… what the hell?? For some reason, they didn't think it would be a great feature for people who get their customers using an E3 or E5 license..
Now if your company doesn't see this as a problem and has customers that meet this pre-requisite, I'm pretty sure Microsoft 365 Lighthouse is a great addition, but I'm personally quite sad to see this as it will simply mean "no Lighthouse for us" :slightly_frowning_face:
How can I get started?
If this hasn't deterred you and you want to get started with Lighthouse, here's some links to get you started!
Some (hopefully) useful information - Q&A
Q: Where can I access the Microsoft 365 Lighthouse portal?
A: The portal can be reached at https://lighthouse.microsoft.com
Q: Will other admin portals such as Exchange Admin portal and SharePoint Admin portal be included in the Microsoft 365 Lighthouse solution?
A: Currently the Microsoft 365 Lighthouse solution will be focussed around Identity and Security platforms, such as Azure AD and Defender for Endpoint. This might change in the future.
Q: Will Azure Lighthouse and Microsoft 365 Lighthouse combine in the future?
A: Due to the difference in RBAC and how they handle permissions, the team has said that while both products share the "Lighthouse" name, they will remain separate products and they don't anticipate this changing in the future.